The Spenser Series by Robert B. Parker & Ace Atkins 50 MP3 AUDIOBOOKS COLLECTION
Genre:
Robert B. Parker began writing in 1971 while teaching at Boston's Northeastern University. Now he is acknowledged as the dean of American crime fiction and was named Grand Master by the Mystery Writers of America (2002). His novels featuring the wise-cracking, street-smart Boston private-eye Spenser have earned him a devoted following and reams of critical acclaim. The Spenser character inspired the television series Spenser: For Hire and a number of made-for-television films.
CONTENT:
1. Chasing the Bear A Young - Michael Prichard
2. The Godwulf Manuscript - Michael Prichard
3. God Save the Child - Michael Prichard
4. Mortal Stakes - Michael Prichard
5. Promised Land - Michael Prichard
6. The Judas Goat - Michael Prichard
7. Looking For Rachel Wallace - Michael Prichard
8. Early Autumn - Michael Prichard
9. A Savage Place - Michael Prichard
10. Ceremony - Michael Prichard
11. The Widening Gyre - Michael Prichard
12. Valediction - Michael Prichard
13. A Catskill Eagle - Michael Prichard
14. Taming A Sea-Horse - Michael Prichard
15. Pale Kings and Princes
16. Crimson Joy - Michael Prichard
17. Playmates - Michael Prichard
18. Stardust - Michael Prichard
19. Pastime - David Dukes
20. Double Deuce - David Dukes
21. Paper Doll - Michael Prichard
22. Walking Shadow - Michael Prichard
23. Thin Air - David Dukes
24. Chance - Burt Reynolds
25. Small Vices - Burt Reynolds
26. Sudden Michief - William Windom
27. Hush Money - Burt Reynolds
28. Hugger Mugger - Joe Mantegna
29. Potshot - Joe Mantegna
30. Widow's Walk - Joe Mantegna
31. Back Story - Joe Mantegna
32. Bad Business - Joe Mantegna
33. Cold Service - Joe Mantegna
34. School Days - Joe Mantegna
35. Hundred Dollar Baby - Joe Mantegna
36. Now and Then - Joe Mantegna
37. Rough Weather - Joe Mantegna
38. Professional - Joe Mantegna
39. Painted Ladies - Joe Mantegna
40. Sixkill - Joe Mantegna
41. Lullaby - Joe Mantegna - Ace Atkins
42. Wonderland - Joe Mantegna - Ace Atkins
43. Silent Night - Joe Mantegna - with Helen Brann
44. Cheap Shot - Spenser
45. Kickback (2015) - Joe Mantegna - Ace Atkins
46. Slow Burn (2016) - Joe Mantegna - Ace Atkins
47. Little White Lies (2017) - Joe Mantegna - Ace Atkins
48. Old Black Magic (2018) - Joe Mantegna - Ace Atkins
49. Angel Eyes (2019) - Joe Mantegna - Ace Atkins
50. Someone to Watch Over Me (2020) - Joe Mantegna - Ace Atkins
Audio-DVD format:
It can be used on DVD and DVD-Rom players, also on devices such as Playstation, Xbox or portable DVD players. In addition, the tracks can be taken to any mp3 player, such as portable mp3 player, tablets, smartphones, etc. through the computer.
- The tracks are handled in the same way that you would handle the songs through iTunes.
- The number of discs varies by each title, although generally it goes in a single disc.
 - The AudioDVD format is not the same as traditional CDs and does not work on CD players. Please be sure to use one of the players mentioned above.
- The format of the tracks is MP3; This is the extension of better handling and of more quality.
- Kbps vary by title.
- Audiobooks are read by professional narrators.
MP3-CD format:
This audio CD-MP3 works on your computer. It also works on CD and DVD players with mp3 capacity, including car stereos.
- The number of discs varies by each title. Each disc can contain one or several audiobooks.
- The mp3 tracks can be taken to different mp3 players or smartphones and iphone or ipad. Make sure your device is compatible with this technology before making your purchase.
- The format of the tracks is MP3; This is the extension of better handling and of more quality.
- Kbps vary by title.
- Audiobooks are read by professional narrators.
SHIPPING:
All audiobooks are sent through USPS First Class and will arrive at your hands between 7 and 10 days after your purchase (usually much sooner than later). A link will be sent so you can track your product online.
We ship worldwide through USPS.

RETURNS:
If the product presents any problem, we will send you another one immediately! Any disagreement will always be resolved. You will also have the PayPal purchase protection against any problem that occurs with your purchase.
Original case is not included with your purchase. Pictures Of Disc covers/cases in this listing are for illustrative purposes only.
View full details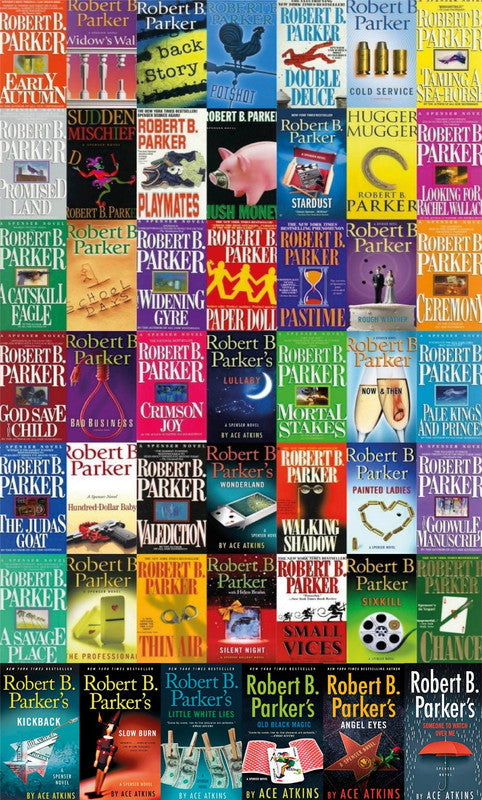 Better than expected. The Spencer Novels in audio.
I am happy to write a review because I am very pleased with my 51 audio book collection! The Spencer novels by Robert B Parker.
It's so convenient to have been able to put the MP3 files onto my smart-phone. I can now happily listen to hours of the Spencer novels in my den.
I find them fascinating. The hero is a private eye under hire to successive clients often in the area of Boston in the USA. He is totally believable, a likable but tough character with sound values. He would rather do what he perceives is the right thing than get paid, sometimes. Spencer has a long-term lady-friend who is a children's psychologist. Her input to the cases is invaluable, as is her particular insight into how our hero ticks. Their relationship is endearing, and as much about cosying-up, meals in and out, as it is about their underplayed sexual relationship.
Spencer has a knack for noticing every detail. That applies to careful descriptions of his journeys and the people he meets, to what he and Susan have for a meal-out, or what they cook for each other at home. Spencer is a true hero and we know his hidden power. He works-out as a matter of routine, is an ex-boxer and ex-policeman. He takes no prisoners with his sharp humour and caustic comments, which is often not appreciated by people he meets, sometimes not even by his clients. He carries a licensed gun, but is ready with his fists if it proves necessary. Few people can withstand him toe to toe, so we feel safe as he accosts some pretty nasty people. But he is also a caring man and will put his life on the line for the weak.
So I recommend these books to everyone who enjoys a good detective story. These are exceptional and after hearing one book, I bought the whole lot!
Happy listening, Ron Keeler, Isle of Wight, Great Britain.
Well-packaged book was just as described
It's Great!!
I am so happy with the quality of the recordings and am really excited to be able to have the entire series! Thank you for making it so easy and affordable to build my audio library.
Spenser Series by Robert B Parker
Love Spenser and Hawk? This is the place to get the most bang for your buck. Data DVD held all the digital files ready to load up on your mp3 player and or commputer. Recommended!
Let customers speak for us