The Inspector Morse Series by Colin Dexter 13 MP3 AUDIOBOOK COLLECTION
Genre:
CONTENT:
1. Last Bus To Woodstock (read by Samuel West)
2. Last Seen Wearing (read by Samuel West)
3. The Silent World Of Nicholas Quinn (read by Samuel West)
4. Service Of All The Dead (read by Samuel West)
5. The Dead Of Jericho (read by Samuel West)
6. The Riddle Of The Third Mind (read by Samuel West)
7. The Secret Of Annexe 3 (read by Samuel West)
8. The Wench Is Dead (read by Samuel West)
9. The Jewel That Was Ours (read by Samuel West)
10. The Way Through The Woods (read by Samuel West)
11. The Daughters Of Cain (read by Samuel West)
12. Death Is Now My Neighbor (read by Samuel West)
13. The Remorseful Day (read by Samuel West)
EXTRA: Morse's Greatest Mysteries (read by Patrick Tull)


Audio-DVD format:
It can be used on DVD and DVD-Rom players, also on devices such as Playstation, Xbox or portable DVD players. In addition, the tracks can be taken to any mp3 player, such as portable mp3 player, tablets, smartphones, etc. through the computer.
- The tracks are handled in the same way that you would handle the songs through iTunes.
- The number of discs varies by each title, although generally it goes in a single disc.
 - The AudioDVD format is not the same as traditional CDs and does not work on CD players. Please be sure to use one of the players mentioned above.
- The format of the tracks is MP3; This is the extension of better handling and of more quality.
- Kbps vary by title.
- Audiobooks are read by professional narrators.
MP3-CD format:
This audio CD-MP3 works on your computer. It also works on CD and DVD players with mp3 capacity, including car stereos.
- The number of discs varies by each title. Each disc can contain one or several audiobooks.
- The mp3 tracks can be taken to different mp3 players or smartphones and iphone or ipad. Make sure your device is compatible with this technology before making your purchase.
- The format of the tracks is MP3; This is the extension of better handling and of more quality.
- Kbps vary by title.
- Audiobooks are read by professional narrators.
SHIPPING:
All audiobooks are sent through USPS First Class and will arrive at your hands between 7 and 10 days after your purchase (usually much sooner than later). A link will be sent so you can track your product online.
We ship worldwide through USPS.

RETURNS:
If the product presents any problem, we will send you another one immediately! Any disagreement will always be resolved. You will also have the PayPal purchase protection against any problem that occurs with your purchase.
Original case is not included with your purchase. Pictures Of Disc covers/cases in this listing are for illustrative purposes only.
View full details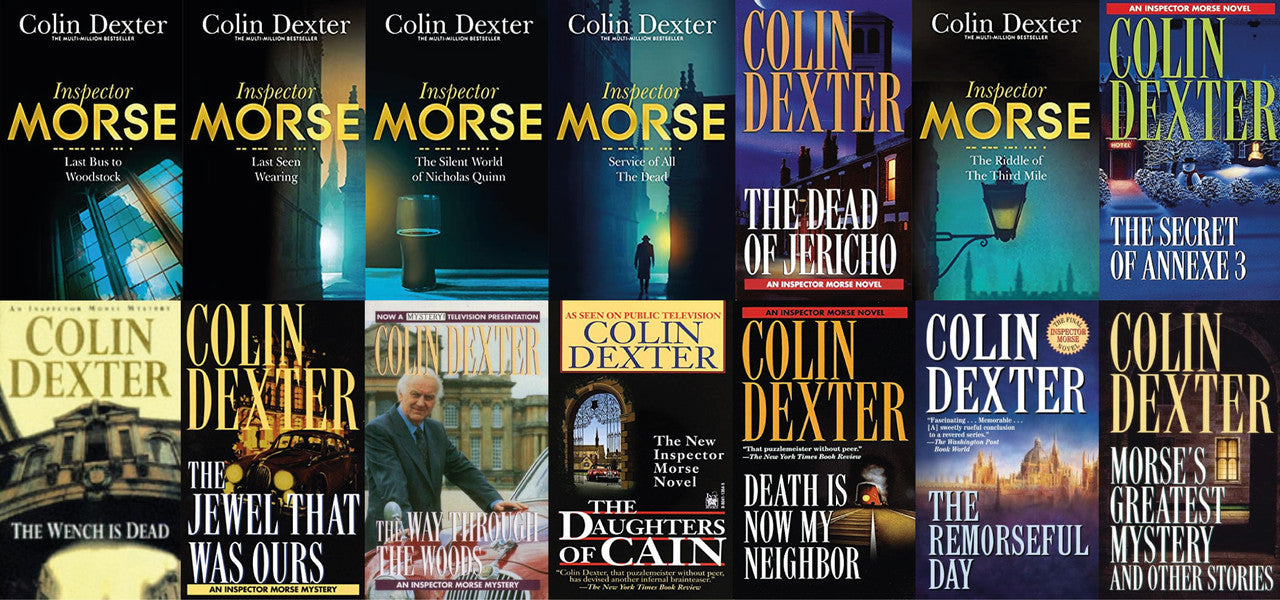 Nowhere but on MotionAudioBooks can you find the complete set of Detective Morse audio books.
Yes, there are the TV movies of Colin Dexter's Chief Inspector Morse, and his faithful assistant Detective Sergeant Lewis. But the movies are soon over while the audio books go one and on for many entertaining hours, loaded with details of the dapper pair's every move in solving murders. Will you find Michael Connelly's Harry Bosch fighting police procedure? No. Marvel at Harry's dissection of the most complicated crime scene forensics? No. Follow Harry as he meticulously builds a "murder book" for every case? No. Witness courtroom dramas where Harry eats defense attorneys for breakfast? No. In Chief Inspector Morse and Detective Sergeant Lewis, you find Agatha Christie's Hercule Poirot and Captain Hastings personified, 60 years later, also in England, solving murders in and around Oxford. Morse uses Poirot's method of relying exclusively on what Poirot calls, "the little grey cells", best exercised reclining in an easy chair by a roaring fire on cold English nights. Except, in the case of Morse, any pub will do, tucked into a dark corner while the night rain beat on the windows; brooding over a case, chastising himself remorselessly for what he must have missed, often blaming Lewis for his inadequacies, as Poirot does Hastings. Yet, in the next moment both giants assure their assistants how indispensable they are to solving the murders, particularly how their innocent, simple minds, yet good hearts are important reminders to the two intellectual giants, not to lose sight of that same natural condition present in all ordinary folk. In a similar fashion, the two master sleuths with egos to match, move relentlessly towards the truth, connecting the dots of what witnesses had said - or not said. The reader is surely challenged to try to keep up with their leaps of insight. Where as Poirot's cases are told by Hastings in first person recollections, much as Dr. Watson records Sherlock Holmes, in the Morse stories the third person is used, which is actually the author, heavily present as the "narrator", too heavily sometimes, in my view, upstaging his characters on occasion by forecasting that an intriguing thing will soon come of a present detail revealed. The author's third person style allows the reader to witness conversations between witnesses when neither Morse or Lewis are present. In Hastings' first person style, Agatha Christie has Hastings hear things through hedges in gardens, or standing below an open window, or overhearing a phone conversion in the next room. Be sure to have your thinking cap on when following Inspector Morse and Sergeont Lewis through the twist and turns of the murders they solve.
Let customers speak for us