The Sandman Series & more by Dirk Maggs ~ 10 MP3 AUDIOBOOK COLLECTION
Genre:
Dirk Maggs a freelance writer and director working across all media, is principally known for his work in radio, where he evolved radio drama into "Audio Movies," a near-visual approach combining scripts, layered sound effects, cinematic music and cutting edge technology. He pioneered the use of Dolby Surround in BBC Radio. He was among the first nominees for the Directors Guild of Great Britain Outstanding Achievement in Radio Award, and in 2005 he was invited to become one of the first Honorary Fellows of the University of Winchester for his work in the dramatic arts. From 2003 to 2005, Maggs produced new episodes of Douglas Adams' science fiction comedy series The Hitchhiker's Guide to the Galaxy, adapted from the novels based on the original radio series that Adams wrote. The books that Maggs adapted were written after the radio series ended its original run. He co-founded Perfectly Normal Productions Ltd (PNP) with Paul Weir and Richard Adams to create compelling high quality popular audio drama in serialized form for delivery to personal digital players and cell phones. Early in his career Dirk became known for directing adaptations of comic book storylines. He started in 1988 with the 50th Anniversary Man Of Steel docudrama Superman on Trial, carried on with a 50th birthday tribute to the Dark Knight: Batman: The Lazarus Syndrome. This was followed by The Adventures Of Superman, Batman: Knightfall, The Amazing Spider-Man and his final BBC Radio superhero series, Judge Dredd in 1995. Along the way his production of Superman: Doomsday and Beyond ("Superman Lives" in the USA) won the 1994 Audie Award for Best Dramatisation from the American Booksellers Association and Spoken Word Audio of The Year from Publishers Weekly.
CONTENT:
The Sandman
1. The Sandman
2. The Sandman: Act II
3. The Sandman: Act III

Alien
4. Alien: Out of the Shadows
5. Alien: Sea of Sorrows
6. Alien: River of Pain

The X-Files
7. The X-Files Stolen Lives
8. The X-Files: Cold Cases

Batman
9. Batman - The Lazarus Syndrome

Non-Series
10. Roland Emmerich, Dean Devlin - Independence Day UK

Audio-DVD format:
It can be used on DVD and DVD-Rom players, also on devices such as Playstation, Xbox or portable DVD players. In addition, the tracks can be taken to any mp3 player, such as portable mp3 player, tablets, smartphones, etc. through the computer.
- The tracks are handled in the same way that you would handle the songs through iTunes.
- The number of discs varies by each title, although generally it goes in a single disc.
 - The AudioDVD format is not the same as traditional CDs and does not work on CD players. Please be sure to use one of the players mentioned above.
- The format of the tracks is MP3; This is the extension of better handling and of more quality.
- Kbps vary by title.
- Audiobooks are read by professional narrators.
MP3-CD format:
This audio CD-MP3 works on your computer. It also works on CD and DVD players with mp3 capacity, including car stereos.
- The number of discs varies by each title. Each disc can contain one or several audiobooks.
- The mp3 tracks can be taken to different mp3 players or smartphones and iphone or ipad. Make sure your device is compatible with this technology before making your purchase.
- The format of the tracks is MP3; This is the extension of better handling and of more quality.
- Kbps vary by title.
- Audiobooks are read by professional narrators.
SHIPPING:
All audiobooks are sent through USPS First Class and will arrive at your hands between 7 and 10 days after your purchase (usually much sooner than later). A link will be sent so you can track your product online.
We ship worldwide through USPS.

RETURNS:
If the product presents any problem, we will send you another one immediately! Any disagreement will always be resolved. You will also have the PayPal purchase protection against any problem that occurs with your purchase.
Original case is not included with your purchase. Pictures Of Disc covers/cases in this listing are for illustrative purposes only.
View full details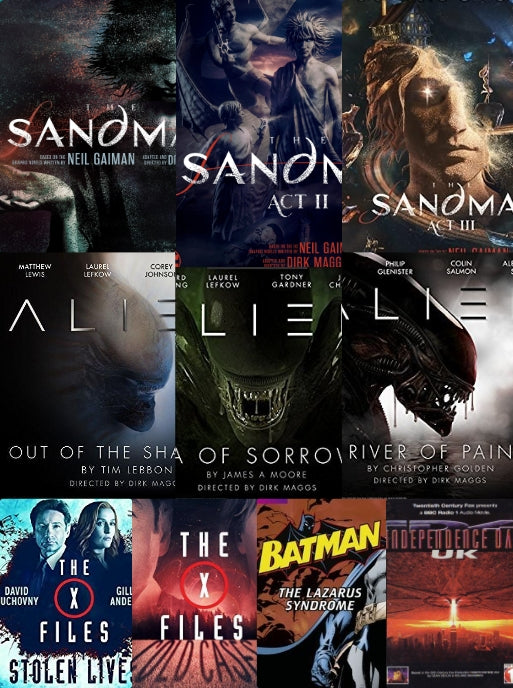 Let customers speak for us