The Goldy Schulz by Diane Mott Davidson 17 MP3 AUDIOBOOK COLLECTION
Genre:
CONTENT:
1. Catering To Nobody
2. Dying For Chocolate
3. The Cereal Murders
4. The Last Suppers
5. Killer Pancake
6. The Main Corpse
7. The Grilling Season
8. Prime Cut
9. Tough Cookie
10. Sticks And Scones
11. Chopping Spree (read by Joyce Bean)
12. Double Shot
13. Dark Tort
14. Sweet Revenge
15. Fatally Flaky
16. Crunch Time
17. The Whole Enchilada
Audio-DVD format:
It can be used on DVD and DVD-Rom players, also on devices such as Playstation, Xbox or portable DVD players. In addition, the tracks can be taken to any mp3 player, such as portable mp3 player, tablets, smartphones, etc. through the computer.
- The tracks are handled in the same way that you would handle the songs through iTunes.
- The number of discs varies by each title, although generally it goes in a single disc.
 - The AudioDVD format is not the same as traditional CDs and does not work on CD players. Please be sure to use one of the players mentioned above.
- The format of the tracks is MP3; This is the extension of better handling and of more quality.
- Kbps vary by title.
- Audiobooks are read by professional narrators.
MP3-CD format:
This audio CD-MP3 works on your computer. It also works on CD and DVD players with mp3 capacity, including car stereos.
- The number of discs varies by each title. Each disc can contain one or several audiobooks.
- The mp3 tracks can be taken to different mp3 players or smartphones and iphone or ipad. Make sure your device is compatible with this technology before making your purchase.
- The format of the tracks is MP3; This is the extension of better handling and of more quality.
- Kbps vary by title.
- Audiobooks are read by professional narrators.
SHIPPING:
All audiobooks are sent through USPS First Class and will arrive at your hands between 7 and 10 days after your purchase (usually much sooner than later). A link will be sent so you can track your product online.
We ship worldwide through USPS.

RETURNS:
If the product presents any problem, we will send you another one immediately! Any disagreement will always be resolved. You will also have the PayPal purchase protection against any problem that occurs with your purchase.
Original case is not included with your purchase. Pictures Of Disc covers/cases in this listing are for illustrative purposes only.
View full details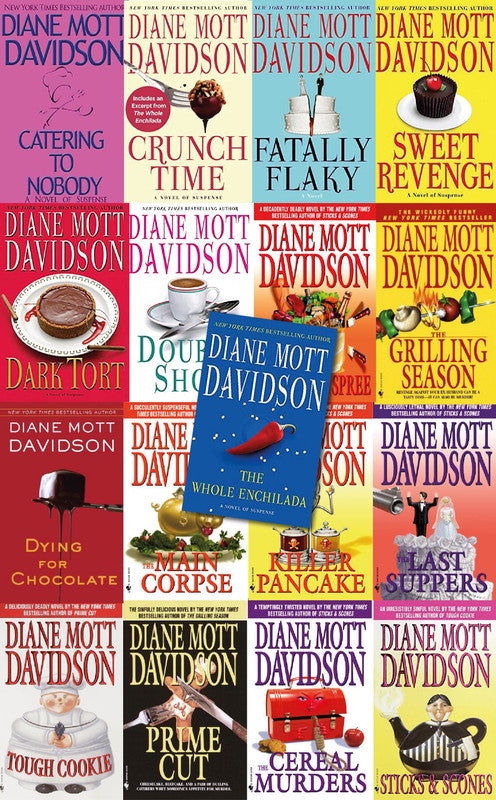 Dishing Up Gourmet Fare With A Side Order Of Murder
When Goldy finally builds up the courage to divorce the handsome , charismatic, well loved and respected Dr.John Richard Korman aka The Jerk who has secretly used her as his personal punching bag for the last seven years she must find a way to support herself and her son Arch. Goldy starts her own catering service Goldilocks - Where Everything Is Just Right. While Goldy is a great cook someone ends up being murdered at one of the affairs she is catering in every one of 17 books. Goldy then takes it upon herself to discover who commited the murder. Along the way she marries Detective Tom Schulz who she met when she was considered a suspect in the first murder. Goldy can be a very annoying character. She has no problems poking her nose into everyone's business. She questions them and demands answers from them as if she were the police herself. She conceals evidence that she uncovers, even from Tom , as if she can do a better job herself than any policeman.She is both neurotically overprotective and at the same time overindulgent with her son Arch, causing him to be very surly with her. She often insults her best friend Marla ( Korman's second divorced wife) with her thoughtless remarks about her weight. She stupidly pursues the killer alone and nearly gets herself killed in every book. So why read the books? The mysteries are interesting with a great cast of characters. You get to learn the ups and downs of the catering business.
The recipes sound delicious and Goldy is like a car wreck that you can't prevent yourself from looking at. You want to know what she can possibly get involved in next. You also have to give her credit for refusing to be a victim, and turning her life around. The books are narrated by Barbara Rosenblat who is an excellent audiobook reader and actress. She is very good at producing a wide variety voices including male voices which makes the listening a pleasure.
Let customers speak for us