The Murder, She Wrote Series by Jessica Fletcher 40 MP3 AUDIOBOOK COLLECTION
Genre:
Mrs. Fletcher began her career writing on an old Royal typewriter (Magic Margin with glass keys), but as her career progressed, she eventually purchased an Intel 80386 class computer running Windows 3.1 (at the time a popular operating system). Among her friends she can count both multi-millionaires who own Beech Starships to down-on-their-luck homeless people, moving effortlessly between the social strata. The format of the show usually has Jessica solving the mysteries within five minutes of the end of each program, unless the producers felt they could prolong the suspense across two episodes. Perhaps her most notable experience was encountering a Mr. Potts who preferred to be called Mr. Bond - he did at least have an Aston Martin DB6, in which Jessica herself ended up racing to the rescue.Jessica's relationship with law-enforcement officials varied from place to place. Both the sheriffs of Cabot Cove were used to, or resigned themselves to, having her meddle in their cases. However, most detectives and police officers didn't want her anywhere near their crime scenes, until her accurate deductions convinced them to listen to what she had to say. Others were fans of her books and gave her free rein. With time, she made friends in many police departments across the USA, as well as a British police officer attached to Scotland Yard.
CONTENT:
Available books 1 to 45. Missing books: 8 - 13 -14 -16 - 18

1. Gin & Daggers
2. Manhattans & Murder
3. Rum and Razors
4. Brandy and Bullets
5. Martinis and Mayhem
6. A Deadly Judgment
7. A Palette for Murder
9. Murder on the QE2
10. Murder in Moscow
11. A Little Yule Time Murder
12. Murder at the Powderhorn Ranch
15. Blood on the Vine
17. Provence to Die For
19. Majoring in Murder
20. Destination Murder
21. Dying to Retire
22. A Vote for Murder
23. The Maine Mutiny
24. Margaritas and Murder
25. A Question of Murder
26. Three Strikes and You're Dead
27. Coffee, Tea or Murder
28. Panning for Murder
29. Murder on Parade
30. A Slaying in Savannah
31. Madison Avenue Shoot
32. A Fatal Feast
33. Nashville Noir
34. The Queen's Jewels
35. Skating on Thin Ice
36. The Fine Art of Murder
37. Trouble at High Tide
38. Domestic Malice
39. Prescription for Murder
40. Close-Up on Murder
41. Aloha Betrayed
42. Death of a Blue Blood
43. Killer in the Kitchen
44. The Ghost & Mrs. Fletcher
45. Design for Murder
Audio-DVD format:
It can be used on DVD and DVD-Rom players, also on devices such as Playstation, Xbox or portable DVD players. In addition, the tracks can be taken to any mp3 player, such as portable mp3 player, tablets, smartphones, etc. through the computer.
- The tracks are handled in the same way that you would handle the songs through iTunes.
- The number of discs varies by each title, although generally it goes in a single disc.
 - The AudioDVD format is not the same as traditional CDs and does not work on CD players. Please be sure to use one of the players mentioned above.
- The format of the tracks is MP3; This is the extension of better handling and of more quality.
- Kbps vary by title.
- Audiobooks are read by professional narrators.
MP3-CD format:
This audio CD-MP3 works on your computer. It also works on CD and DVD players with mp3 capacity, including car stereos.
- The number of discs varies by each title. Each disc can contain one or several audiobooks.
- The mp3 tracks can be taken to different mp3 players or smartphones and iphone or ipad. Make sure your device is compatible with this technology before making your purchase.
- The format of the tracks is MP3; This is the extension of better handling and of more quality.
- Kbps vary by title.
- Audiobooks are read by professional narrators.
SHIPPING:
All audiobooks are sent through USPS First Class and will arrive at your hands between 7 and 10 days after your purchase (usually much sooner than later). A link will be sent so you can track your product online.
We ship worldwide through USPS.

RETURNS:
If the product presents any problem, we will send you another one immediately! Any disagreement will always be resolved. You will also have the PayPal purchase protection against any problem that occurs with your purchase.
Original case is not included with your purchase. Pictures Of Disc covers/cases in this listing are for illustrative purposes only.
View full details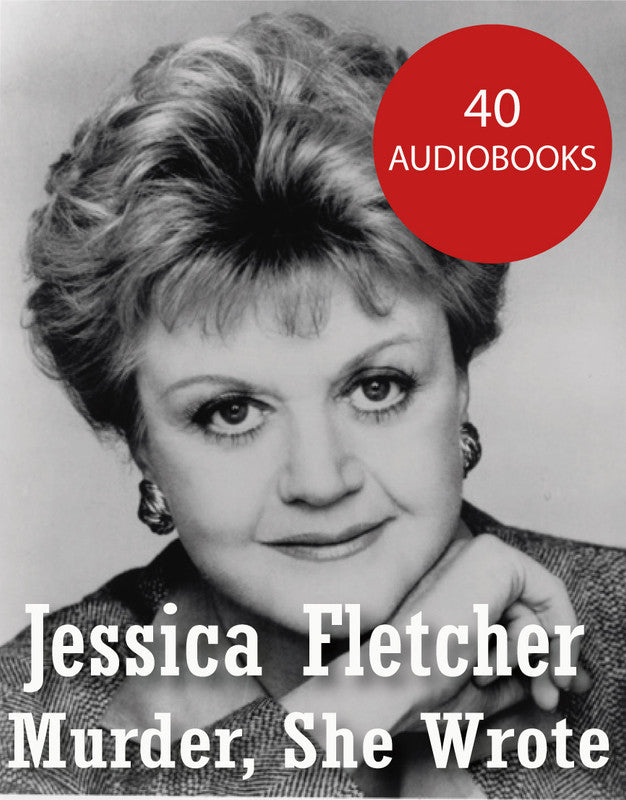 Murder she Wrote
Very enjoyable. Loved listening to the series.
Let customers speak for us